Listing Stamps
The Kangaroo & King George V Head stamps are listed as follows:
Denomination

Stamps are numbered in order based of their face or surcharged value

OS Overprinting

Overprinted OS stamps are numbered immediately following the standard stamp

OS Punctures

'OS' punctures are treated as a variety within the standard stamp

Die types

Each Die type is listed with a separate stamp number and treated as a group

Watermarks

Watermarks are listed with a separate stamp number within each die group

Perforation size / type

Perforations are listed with a separate stamp number within each watermark group

Paper types

Paper types are listed...............

Printers

Printers are listed ......
---
Watermarks
Six different watermark papers, as well as unwatermarked paper, were used for the Kangaroo & KGV Head stamps. ACSC designates the watermarked papers as Type 1 to 6.
Watermarks are formed in the wet pulp stage of papermaking by pressure rollers, which results in thinning of the paper. It is this thinning that is apparent under a backlight.
The
Kangaroo
stamps use the following watermarks:
FIRST WATERMARK


B-W's ACSC Type 1

SECOND WATERMARK


B-W's ACSC Type 2

THIRD WATERMARK


B-W's ACSC Type 3

SMALL MULTILPLE WATERMARK


B-W's ACSC Type 5

C of A WATERMARK


B-W's ACSC Type 6
The
KGV Head
stamps use the following watermarks:
UN-WATERMARKED


SINGLE (2nd.) WATERMARK


B-W's ACSC Type 2

LARGE MULTIPLE WATERMARK


B-W's ACSC Type 4

SMALL MULTILPLE WATERMARK


B-W's ACSC Type 5

C of A WATERMARK


B-W's ACSC Type 6
---
Dies
A Die is the medium (usually metal) on which the stamp's design is first engraved. This original die is designated Die 1. If it becomes necessary (due to either damage or wear) to alter the die, later versions are designated Die 2, Die 3, etc. Minor repairs (for example) can be designated as Die 2A & Die 2B.
Printing plates (often multiple plates) are prepared from these dies.
The Kangaroo Dies
Die 1
Die 2
Die 2A
Die 2B
Break in the inner lower left frame, level with the top of the value in words
Die 1 repaired & shows no break. Can be confused as an over-inked Die 1
As Die 2 but with a break in the inner-left frame, 9mm from the top of the design
As Die 2A plus a break in the top frame line above 'ST', plus an incomplete top right corner
The 1d. KGV Dies:
1d. Die 1
1d. Die 2
1d. Die 3
Shading behind the Kings head widens below
As Die 1, plus a 'spur' in the left hand tablet
Shading behind the Kings head now evenly spaced, plus a break in the shading line at this neck
The 2d. KGV Dies
The 3d. KGV Dies
2d. Die 1
2d. Die 2
3d. Die 1
2d. Die 2
Die 2 has wider and bolder numerals than Die 1
Die 2 has bolder value numerals than Die 1
The 4½d. KGV Dies
The 5d. KGV Dies
4½d. Die 1
4½d. Die 2
5d. Die 1
5d. Die 2
Die 2 has the bolder value numerals and words, and the serif at the base of the '4' is blunt rather than tapered
Die 2 does not have a double oval in front of the Kangaroo & Emu
---
Paper Types
This section ...............
---
Perforations
The earliest Australian Colonial Stamps were printed and issued
Imperforate
, with individual stamps being cut by hand at local post offices.
The next stage was
Rouletting
the stamps as part of the printing process, by the use of a toothed wheel or disk. This method involved either piercing or making small cuts in the paper.
The final stage was
Perforation
of the paper, where paper was punched out to form a circular hole.
The early Australian stamps were perforated using either a single line perforating machine but more usually by a comb perforator.
The Kangaroo stamps all used a Perf. 11¾ comb, using the same spacing vertically and horizontally.
Some King George V Head stamps had Single Line Perforations but were mainly Comb perforations.
The engraved heads were Single Line Perf. 11 with others being Single Line Perf. 14.2. The majority however were either Perf. 14¼ x 14 comb or Perf. 13½ x 12½ comb.
Perforations are measured by the number of holds per two centimetre. Perforation gauges allow measurement in ¼ hole increments, while some publications only display perforations t0 the nearest ½ hole increments.
---
Colours & Shades
Naming Shades
The naming convention used in this website follows the generally accepted rule that if a shade is composed of two colours (compound colours), it is hyphenated (e.g. Blue-Green, Yellow-Green, etc.), with the last named colour being the prominent colour.

Where a shade is prefixed by a shade modifier (e.g. light, dark, bright, reddish, bluish, etc.) the shade name is not hyphenated (e.g. Dark Green, Bluish Green, etc.).

If the shade has a special name, comprising two words.....they are not hyphenated (e.g. Royal Blue, Apple Green, etc.).

Modified compound shades follows a combination of the above rules (e.g. Dark Blue-Green, Pale Yellowish Green, etc.)
Colour Groups & Shades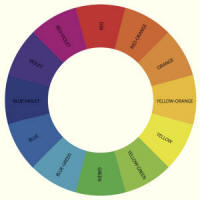 Stamp shades fall into eight main colour groups, comprising the primary colours (red, blue, yellow), the secondary colours (violet, green, orange), plus two special groups (Browns & Greys).

Within each group, and merging with adjoining groups, are more colour shades. These names are either compounded standard colours or specific unique names (e.g. Sea Green, Emerald, Lake, Carmine, etc.).

An shade can be further described using the following terms:
Light & Dark
.....refers to the amount of white or black in the colour or shade.


Pale & Deep
.....refers to the "strength" of the ink and/or the amount of ink applied during printing.


Dull & Bright
.....refers to the general appearance of the stamp, where "dull" could be described as "flat & lifeless" and "bright" as "fresh almost vivid".

When assessing shades, remember that the stamps were fresh when original named. Minor subtle differences may well have diminished over the intervening years.

For information, a full list of all the stamp shades used by Brusden-White in their series of Kangaroo & KGV catalogues can be seen here.
Stanley Gibbons' Shades


The leading authority for the naming of shade colours for Commonwealth stamps is arguably Stanley Gibbons, UK. They were established in 1856, just 14 years after the issue of the world's first adhesive postage stamp, the British "Penny Black".


| | | | |
| --- | --- | --- | --- |
| | | | The first significant listing of colours, prepared especially for stamp collectors, appears to be the excellent 1899 publication "A Colour Dictionary" by B. W. Warhurst and published by Stanley Gibbons. It lists and names 200 colours and has 56 colour images. |
| | | | |
| --- | --- | --- | --- |
| | | | The next significant publication was by stamp printers Perkins Bacon Co. Ltd. (Stanley Gibbons' publication No. 2077). It shows 100 shades. It is believed to be circa. early 1920s. |
| | | |
| --- | --- | --- |
| | | Stanley Gibbons subsequently issued an undated early guide (Nos. 3333) contains 75 named colour chips, plus 12 infrequent used shade names: Agate, Azure, Cerise, Cinnamon, Chrome Yellow, Crimson, Indian Red, Myrtle Green, Plum, Rosine, Royal Blue, Steel Blue. |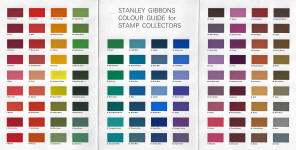 A later issue of publication nos. 3333, dated 1966, contains 100 named colour chips, plus 3 infrequent used shade names: Azure, Chrome Yellow, Indian Red.
The latest Stanley Gibbons guide is the undated Stamp Colour Key (Item No. 2530), that contains 200 named colour chips.
The One Penny Red KGV "G" Shades
The shades of the 1d. Red KGV heads is arguably the most difficult and confusing when collecting stamp shades. The variation in shades resulted from the difficulty in acquiring consistent supplies of suitable pigments during the war years.

In 1932 a specialist committee was set up to form a workable shade listing. This committee comprised the following leading experts: Appleby, Blogg, Hatcher, Johnson, Orlo-Smith, Purves, and Rosenblum.

The basis for this committee's work was Colenso Blogg's 1930 list of 1d Red Shades, comprising some 370 shades. These shades have "Z" prefixes.

This committee came up with a recommended list of "G" prefixed Shade Groups, that were listed in Orlo-Smiths 1933 Supplement to the Third Edition. These "G" numbers are still in current usage.

These "G" numbers represented a "..... full list of major colours, and, after each colour, a list of the chief variants of shade in that class when they exist". Note the qualifying 'major' and 'chief', clearly indicating that numerous more shades exist within in shade group.

For those requiring a simplified method of collecting, Orlo-Smith suggested that ....." the Penny red arrange themselves in the following groups":

1914 - Carmine-Reds
1915 - Reddish Pinks & Scarlet
1916 - Deep Scarlets
1917 - Roses & odd shades
1918 - Pinks & Carmines

In 1939 Orlo-Smith published a visual diagram showing the relationships of the Red shades. Moving to the right of the Red column gives an orange tinge due to the addition of yellow, and moving to the left gives a purple tinge due to a the addition of blue. Moving above the Red row results in paler shades due to the addition of white, and moving below this row results in darker shades due to the addition of black.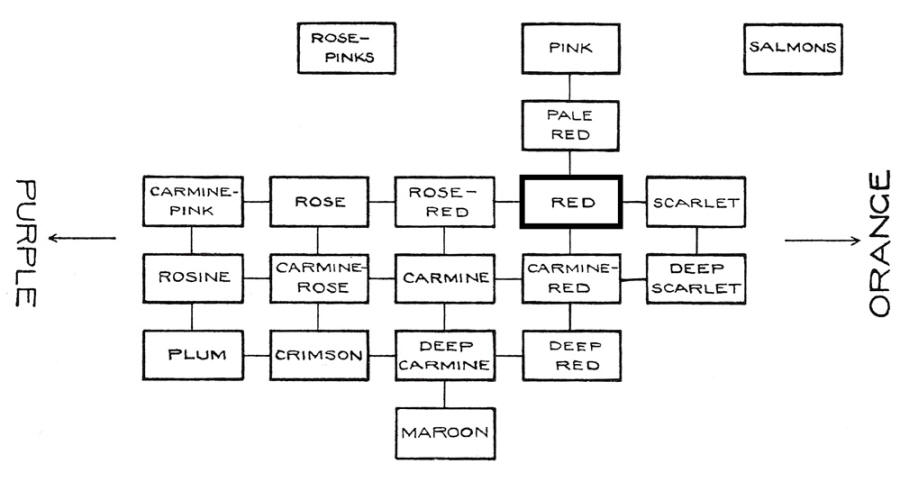 ---
References
"The Redhead" by Colin Beech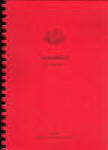 Colin Beech's book "The Redhead", published by The British Society of Australian Philately (1998) is arguable the most informative publication currently available. It is a essential reference for anyone interested in the history of the 1d Reds.

It contains three main sections. Section 1 includes a brief history, the shade groups, daylight appearance and U-V Light reactions, and periods of use. Section 2 covers forming a shade collection, and details of the various paper & watermark groups. Section 3 includes a full list of the Colenso Blogg "Z" prefixed shade list (including the corresponding "G" prefix shade numbers), and detailed specific information on each "G" shade.



Glebe Stamps Website


An extremely detailed and up-to-date examination of the KGV 1d Red shades, together with an attempt to assign Stanley Gibbon shade names to the shade names used in the ACSC, is available on the Glebe Stamps' website. link.


Stampboards.com Website

A number of informative posts can be found on the Stampboards.com website. link.